Do you have a discolored aluminum pan and can you not figure out how to clean it? Well, the answer is straightforward: you need home-made tartar plus vinegar solution and a gentle scrubber to fight that aluminum pan's stains.
But, it's not that simple, aluminum pans are different from regular steel and cast iron utensils and they need proper after-care. If you aren't familiar with aluminum pans' cleaning and maintenance, you've landed in the right place. Read on and discover how to clean aluminum pans!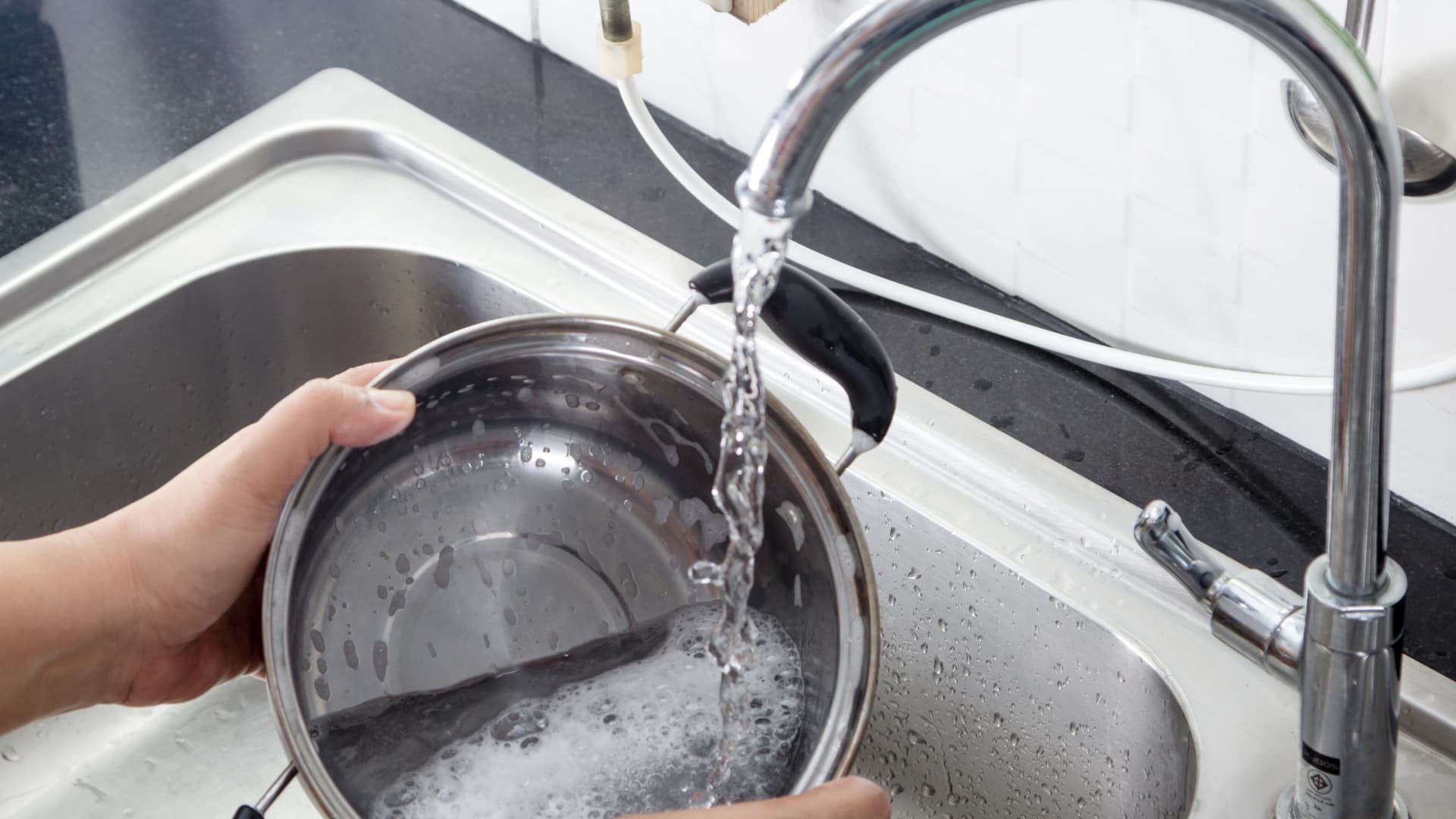 3 Easy Ways To Clean Aluminum Pans 
Aluminum pans and pots are pretty popular in most kitchens, thanks to their durability and excellent heat distribution. These pots don't require much upkeep and help home cooks experiment with different cuisines.
However, new cooks often don't know how to clean aluminum pans. They let the burnt food build up inside the pans, eventually ending up with completely tarnished utensils.
If you recognize yourself in this scenario, fret not because cleaning aluminum pans is not a nerve-wracking task. You need the correct cleaning routine, and your pans will always look shiny. This simple and easy-to-follow guide will help you clean your neglected aluminum pots without breaking a sweat.
Things To Remember While Cleaning Aluminum Pans 
Don't use abrasive or steel wool scrubbers.
Quickly pour out the cleaning mixture after it's done boiling.
Avoid harsh utensil cleaners, for example, bleach, vinegar, or lime-based solutions do the job.
1. How To Clean Aluminum Pans: Everyday Food Grease
If your aluminum pots aren't discolored or tarnished, you're lucky because otherwise, the cleanup would require a lot more effort. Anyhow, let's start with the things you need for everyday pot cleaning:
Warm water
Scrubber
White vinegar
Dish soap
Mix a solution of one part water to one part white vinegar (you can also use lemon juice instead of vinegar, but it'll require more scrubbing). Soak a kitchen towel in this solution, and rub it on your aluminum pan.
If there is heavy food build-up but there are no stains, keep rubbing the vinegar solution until the residue comes off. Remember not to use an abrasive scrubber and evenly spread the vinegar solution all over the pan.
Once you feel the burnt food or grease has come off, wash your aluminum pan with warm water and dish soap. Finish the process by drying the pan with a kitchen towel.
And that should do for your everyday pan cleaning. But, if this cleaning regime doesn't do the job, move on to the next tip.
2. How To Clean Aluminum Pans: Treating Discoloration

Aluminum pans lose their shine and color when excessively used (and neglected). You might have an old-looking pan in the kitchen, which you think is a gone case, but that's not true. You can revive heavily-affected aluminum pans with a good cleaner and regular upkeep.
Here's what you need to treat discolored aluminum pans:
Cream of tartar.
White vinegar or lime juice.
Dish soap.
A wooden spoon.
Warm water.
Silver polish (optional).
Start by filling your aluminum pan with water. Mix two tablespoons of cream of tartar and white vinegar or lime juice in the water and stir this solution. Place your aluminum pan on the stove and bring this solution to a boil. Let this mixture boil for 15-20 minutes, this will scrub off all grime from the pan.
Turn off the heat and pour the tartar mixture out of the pan. Clean the remaining solution with a wooden spoon. This will most likely treat all discoloration and tarnishing of your pan.
If, however, you aren't happy with the results, pour a gentle quality of dish soap in the pan and use the coarse side of the scrub to wipe off the grime.
Once your pan is in good form, wash it with warm water and towel dry it. You can end this cleaning process by using a silver polish on your pan's exterior surface for an overall shiny look.
Although this cleaning process requires some effort and time, it'll bring your old aluminum pans back from the dead. Try this procedure, and cook in a clean, safe pot from now on!
3. Maintenance of Aluminum Pans

Once the extensive aluminum pan cleaning is done, you need to maintain its shine. Because if not, you'll again end up with a tarnished pan.
Handwash Your Aluminum Pans
Sure, a dishwasher is a lifesaver for busy home cooks, but it doesn't equate with handwashing. We recommend you hand wash your aluminum pots and pans to prevent scrubbing and grease build-up.
If you don't have much time, soak your cooking pan in the water after you're done cooking and let it rest for a while. This will remove scrubbing off your checklist, easy peasy.
However, be mindful that sudden temperature changes don't sit well with aluminum metal. Therefore, let your pan cool before you soak it into water. Another tip is to add a small quantity of white vinegar in the water while you soak your pan for an easy-after clean, but that's always optional.
Try not to burn your food while cooking, and you're off for easy cleanup. Otherwise, gear up!
Use White Vinegar Now And Then
White vinegar is a good friend of utensils. It removes stains, doesn't require much scrubbing, and is readily available, so why not use it? Whenever you have enough time to do a little kitchen cleaning routine, polish your aluminum pans with white vinegar and keep those stains at bay.
No Coarse Scrubbing 
Yes, scrubbing reduces your cleaning time, but it leaves your aluminum pots with scratches as well. So, we recommend you avoid steel wool or other abrasive scrubs.
Final Words
Being kitchen smart is an art, and we're on a mission to help you with that. Whether you're completely new to dealing with aluminum pots or you're too busy to be experimenting, follow the tips we've listed above, and ta-da!
Most greasy aluminum pans can be cleaned with a little effort and the right cleaning solution. Pick a tip depending upon your pans condition. If you have a heavily affected pan, go for the tartar cream and vinegar mix. If it's only mild greasing, then your everyday dish soap is good enough.
So, try our tips, keep your kitchen tidy and invest your time in activities that bring you joy instead of scrubbing the dull pots!