Copper cookware is a stylish, durable, and luxurious addition to your kitchen. But if you decide to bring this sheen and beauty into your kitchen, you should also know how to clean copper pans.
Unlike stainless steel and other materials used for cookware, copper pans are delicate and can be tarnished or stained. Not only hanging your copper pans on a wall or ceiling, but also keeping them shiny and glossy, will give your kitchen the luxurious and elegant look you're going for. In this article you will find our best tips on cleaning copper pans.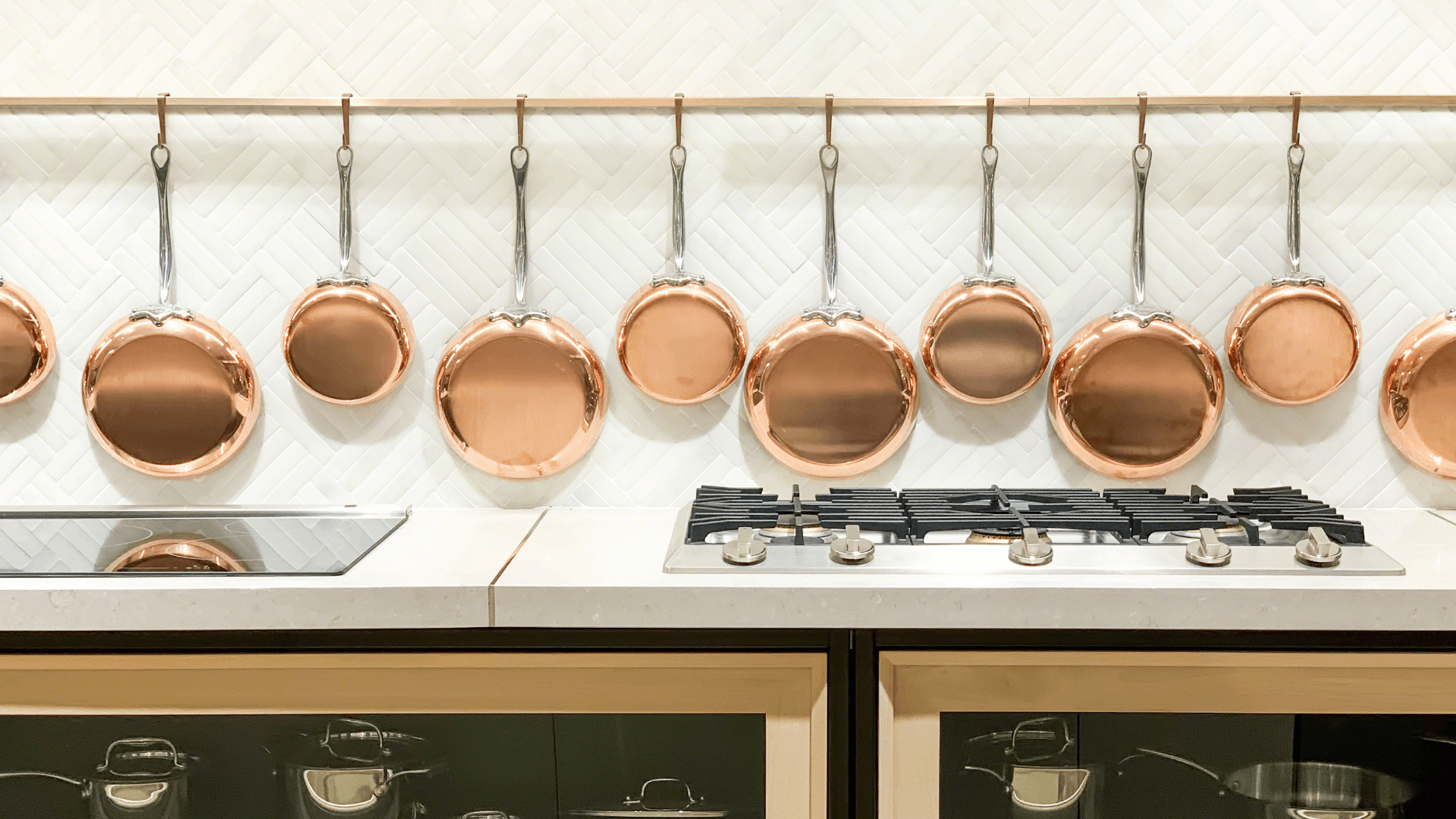 Ways of Cleaning Copper Pans
One of the most important things in cleaning copper pans is to maintain the shiny glaze of the copper. You might be facing some difficulties choosing the right detergents and soaps to clean your copper pans. If you use the wrong cleaning products, your copper glow will dim. The best way to clean copper pans is with a few basic household ingredients like salt, white vinegar, baking soda, and even ketchup!
1. Wash With Soap And Warm Water
People usually polish their copper pots to increase their shine. But we suggest you wash copper pans with a simple dish soap and water solution, and rinse with warm water before polishing them. It is better to use warm water to remove grease that's left behind.
Copper pans are usually made with a lining of stainless steel or tin. Sometimes, grease will remain stuck within the lining of the cookware. When you pour warm water on your copper pans, the soapy water and a soft sponge will get rid of the grease.
2. Polish Copper Pans
Do your copper pans get corroded after a while? If they do, don't worry. You should polish all of your copper pans with a special copper cleaner and a soft cloth. Even though you took great care of your metallic pots, the fact is air and water will tarnish the surface of your copper pans.
How To Polish Copper Pans With Natural Ingredients
As polishing copper pots will remove all the corrosion and tarnishing from your products, you should do it every six months. You will be amazed to know that polishing copper pans is quite different from cleaning other metals. Instead of using creams and shiners, we suggest you use homemade mixtures.
The following three natural ingredients will help you polish your copper pans.
1. Lemon and Salt
One natural way to polish your copper pans is to use a mixture of lemon and salt. We recommend you cut the lemon in two halves. Sprinkle table salt to the halved lemons. Rub the sprinkled lemon surface over the copper pan. You can add more salt to clean the copper surface. After rubbing the inside and outside of your pans with lemon and salt, you should rinse everything. After drying your pans, all of the tarnishes will have disappeared.
2. Lemon and Baking Soda
Another way to clean copper pans with natural ingredients is by polishing the pans with a mixture of lemon and baking soda. Make a mixture of baking soda with lemon juice and stir it firmly. After preparing this homemade cleaning mixture, apply it over the surface of your copper pan. We suggest you buff the mixture with a soft cloth in a circular motion. Rinse the copper pan and dry. If you don't have lemon juice in your home, you can use white vinegar instead.
3. Ketchup
Don't laugh now! Ketchup is another natural product you may use to clean your copper pans. Really! So no need to worry if you don't have baking soda, white vinegar, or lemon lying around in your home. Due to the presence of tomatoes, ketchup contains acid. The acidity of ketchup will rinse away all the tarnishes and stains. Simply apply a layer of ketchup over the surfaces you want to clean. Rinse the ketchup mixture and dry the surface with a soft cloth.
Precautionary Measures To Keep Copper Pans Glossy
To keep the new-like appearance of copper pans, you should consider some precautionary measures. These measures are necessary to retain the natural glow of the copper cookware.
1. Avoid Heating Dry Copper Pans
Just like every other metal pan, you should not heat a dry copper pan. Whenever you heat a copper pan empty without any oil, water or food inside it, the heat will start to degrade the inner lining. In fact, you should not keep any empty dry pan over the stove to protect it from damage. That's why we suggest you avoid heating dry copper pans to retain their delicacy and beauty.
2. Don't Use Dishwashers and Steer Clear of Abrasive Items
Exposing copper pans to bleach will not only eliminate the radiancy of the metallic lustrous surface. It will also damage the construction on your pan. Almost all dishwasher products contain a certain amount of bleach. And however small the amount of bleach is, it will still have impact on the copper shine of your pans. Just to be sure, we advise washing your copper pans by hand and not in your dishwasher.
Also, never use abrasive products like a steel wool sponge. It will damage the surface forever and your copper shine will be lost.
So, there you have it. Just take good care of your copper pans and they'll give you joy for an even longer period of time!