If you have ever thought of finding out the best cast-iron cookware in the world, you would have certainly come across the name of Le Creuset. The French brand Le Creuset has been producing extremely high-quality cast iron pots and pans for nearly a hundred years!
Many people love to discover the country of origin for everything they buy. This curiosity is the genesis of the question: "Where is Le Creuset made?". This article will attempt to answer this and many other questions you may have about this iconic cookware brand and its products.
Le Creuset: A Brief History
Le Creuset came to life in 1925, a partnership between two Belgians – Armand Desaegher and Octave Aubecq. It was a perfect union of a casting specialist and an enameling specialist (respectively) coming together to create magic in cookware.
Le Creuset set up their first foundry in Fresnoy-le-Grand Aisne Picardy, a perfect melting pot (pardon the pun) of the trade for coke, iron, and sand.
The Second World War and the two decades after that were a period of significant improvement for Le Creuset and the time when they started diversifying into other items like grills and a fondue set.
Their signature Dutch ovens came out in the '70s, and the "Futura" line came in the '80s. The '90s brought new categories such as stainless steel, silicone, stoneware, textiles, enamel on steel, and forged hard-anodized aluminum. Paul Van Zuydam took over the company in 1988.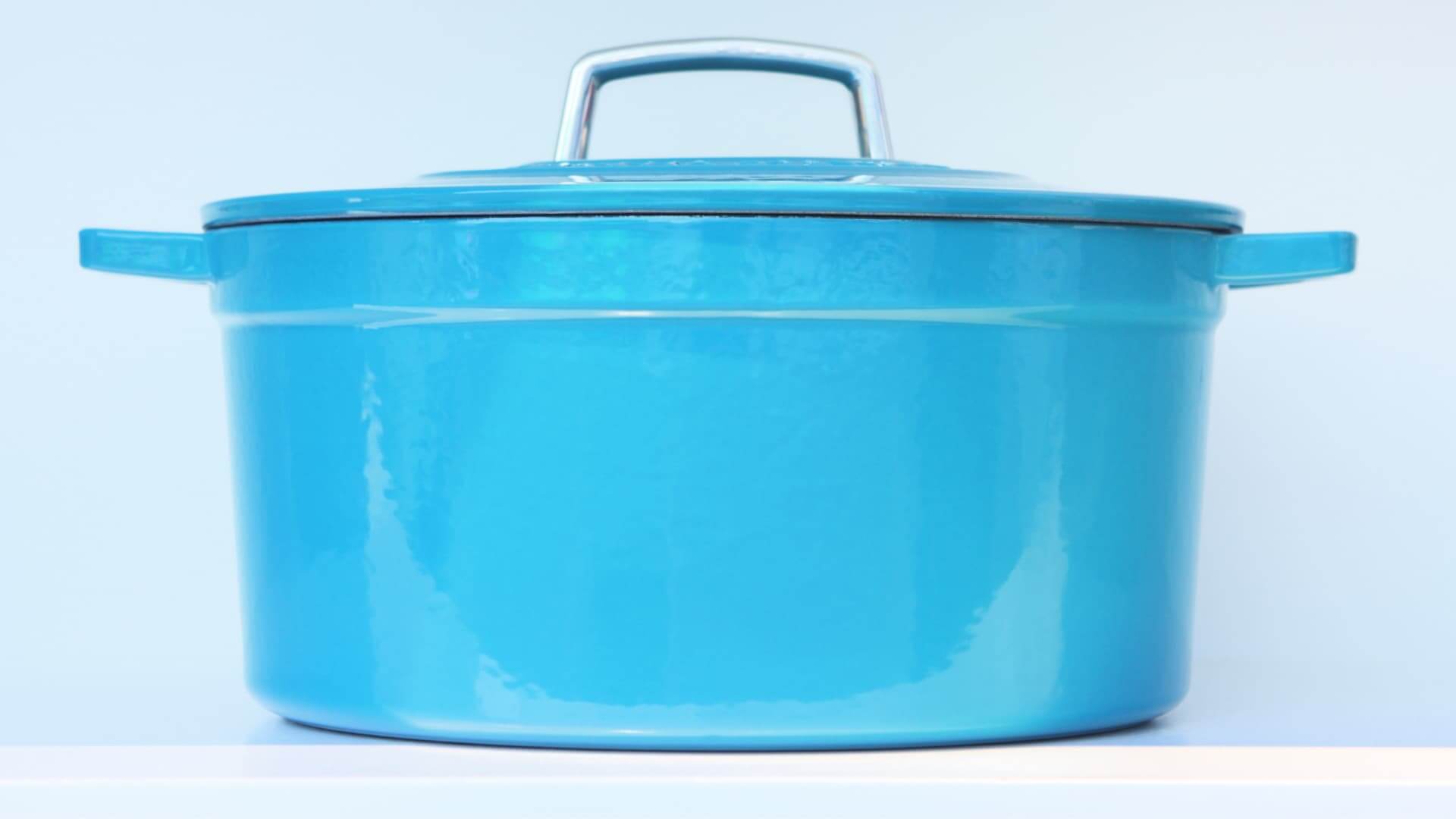 Le Creuset Colors
Le Creuset's signature "Flame" color was the only color in which they produced their cookware for the first thirty years. It was a tribute to hot molten cast iron in a crucible known as "Creuset" in French.
Over the years, Le Creuset has diversified into many colors, some bright such as their cherry color, others dull (such as the "dune" color), however "Flame" remains their most well-known color. Today, Le Creuset partners with Sur La Table and Williams-Sonoma, offering exclusive colors to buyers from their stores.
"Dutch" Ovens?
Le Creuset's most sought-after products are their enameled cast iron cookware, otherwise known as "Dutch" ovens.
Despite the name, Le Creuset has never had any association with Holland. This cookware is famous by the name "Dutch" ovens because the cast-metal, thick-walled pots were a specialty of the Dutch in the 1600s, and their name stuck to this type of cookware.
Where is Le Creuset Made?
All Le Creuset cast-iron cookware is still made in the original foundry in France at the Fresnoy-le-Grand. Isn't that amazing?
However, this does not mean that the winds of globalization have left Le Creuset untouched. Its non-cast-iron products come from other countries, including China (where they make silicone products and accessories), Thailand (a lot of your ceramic products and kettles come from Thailand), and England (enamel cleaner manufacturing).
Apart from this, stainless steel and clay pots come from Portugal and Swaziland.
How Is Le Creuset Cast Iron Enameled Cookware Made?
If you own a Le Creuset in your kitchen, you would have certainly admired its durability. Many families in France and around the world pass on Le Creuset cookware across generations. It is more than just a utensil – it is a treasured heirloom to be used only for special occasions and family gatherings.
This legendary durability comes from a grueling process that converts mere pig iron, steel, and other minerals into a work of art. Let me take you through this incredible journey.
Le Creuset uses a proprietary recipe to put together these essential ingredients as cast iron; let me give you a sneak peek into this process.
Firstly, the foundry workers put the ingredients in the correct quantity and weights in a furnace. This furnace melts the metals at temperatures higher than 1000 degrees.
Next, they pour the molten metals into a melting pot or "Creuset." They then shape it into the vessel by placing it in sand molds. They create unique sand molds every day, each day for each utensil. These sand molds are the secret behind why no two Le Creuset products are similar! They use each sand mold only once because they have to break the mold to bring out the pot or pan when the metal cools down.
After this, the workers sand, deburr, and polish the cast-iron pieces. This process ensures that your cookware does not have metal burrs, excess sand, or rough spots/edges.
The next step is to remove oxidation. The piece is blasted with a hot air shot, thereby creating a porous exterior that will hold the clear enamel coating, which is to be applied next.
Before they apply enamel, the foundry workers inspect each piece through a stringent quality check process. Only the best pieces remain at the end of this process. They throw out any piece with the slightest of damage and deformity.
Once it passes the inspection, the piece is enamel coated. Every piece receives three coats of vitreous enamel. Le Creuset uses a type of glass enamel made from its proprietary recipe.
The first coat seals out the iron. This first coat is also known as the ground coat. It is essentially a clear enamel sprayed on the entire cast-iron surface, ensuring that no portion is left unsealed.
The second coat uses a sand-colored enamel, and its purpose is to improve durability. This coat goes on the interior of the cookware.
The last coat gives the beautiful colors that we see in the finished product. It is a vitreous enamel, often made from two colors gradated together to provide an elegant finish.
Lastly, the foundry workers will air-dry the cookware and heat them at 800 degrees, which vitrifies the enamel.
Le Creuset Products
If you are looking to add this fine cookware to your kitchen, I would suggest the following items that I can personally vouch for:
Le Creuset Enameled Cast Iron Signature Iron Handle Skillet

I have used this beautiful 1-¾ quart skillet for cooking many low-fried dishes in my kitchen! The enamel coating helps me reduce the oil content in my food, and the brilliant color is perfect to put out straight on the dining table!
Last update on 2023-09-26 / Affiliate links / Images from Amazon Product Advertising API
Le Creuset Enameled Cast Iron Signature Round Dutch Oven
The signature dutch oven from Le Creuset! I have been using it for nearly five years in my kitchen now, and I can safely say that it is one of the most durable pieces of cookware that I have owned. It can withstand up to 500 degrees, cooks very well all around (not just at the bottom, like many cheaper alternatives), and its large handles give an excellent grip.
Sale
Last update on 2023-09-26 / Affiliate links / Images from Amazon Product Advertising API
Final Word
While I did solve the mystery of where Le Creuset cookware comes from, the legendary puzzle of how this cookware can last for generations hides in the secret recipe that Le Creuset uses in its cast-iron manufacturing and enamel-making process.
However, if you are like me, you will be more interested in enjoying the delicious food you can make from this cookware! So what are you waiting for… Go on out there, and get yourself one of the best enameled cast-iron cookware in the world!