Has the last cookery show on Asian food inspired you to buy a steel wok? Are you clueless on how to season, use and take care of it? If your answers are a "yes," then you are on the right page.
A wok is the heart and soul of Asian cuisine. No chef, worth her or his salt, can prepare Asian food without tossing and flipping the ingredients in it. In Asian culinary, the wok has a long history of over 2000 years, and since then, it has been an inseparable part of the cuisine.
Now coming back to the main question on how to season a steel wok, and taking care of the wok. Woks come in all shapes and sizes and are predominantly made of either cast iron or carbon steel.
Today we will focus on a carbon steel wok and discuss how to select, season, and take care of it. But first, we will discuss the benefits of carbon steel woks.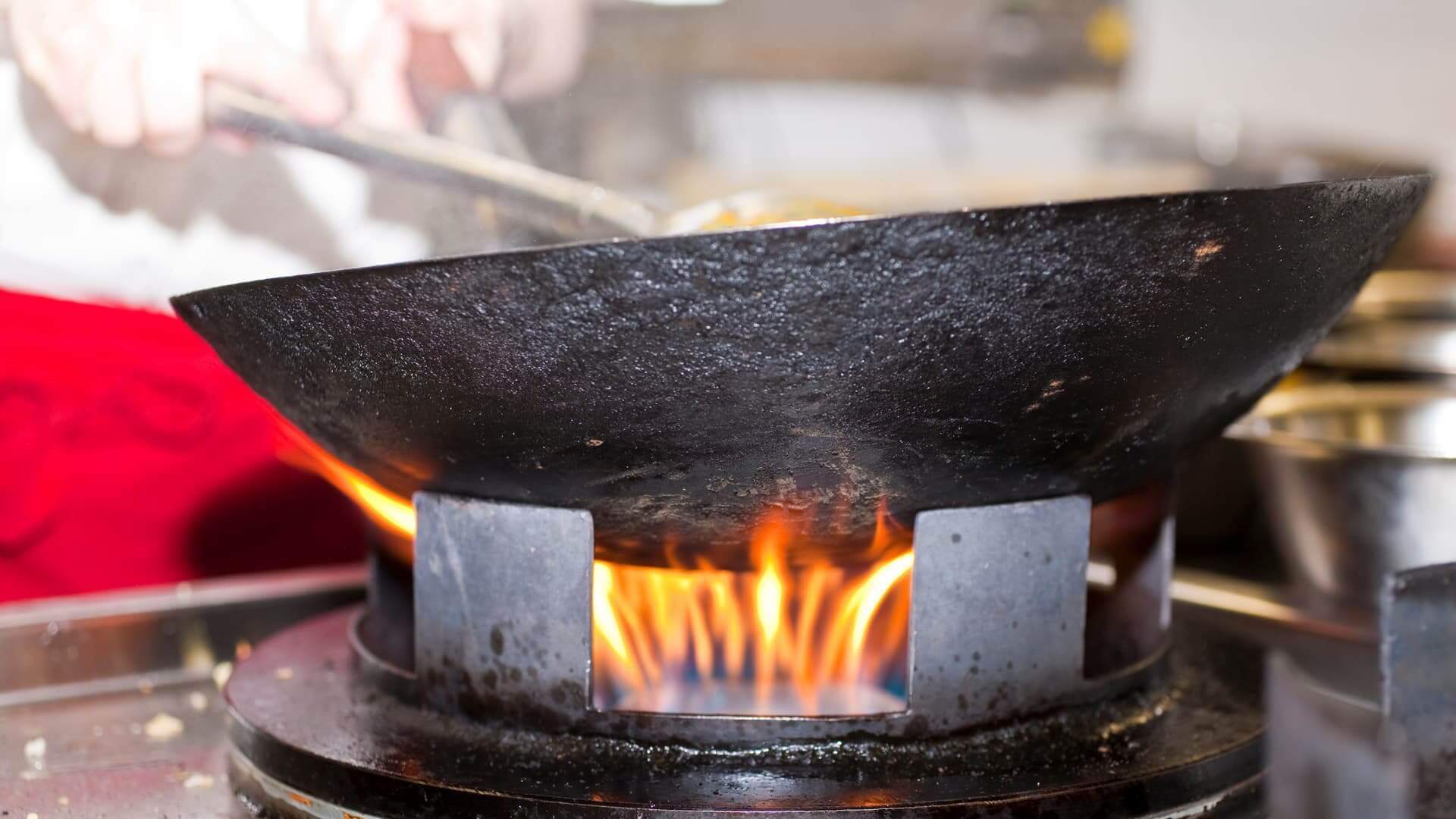 Why Carbon Steel Wok?
After cast iron, carbon steel woks have gained popularity in recent years. This preference for carbon steel is because it heats quickly and evenly, which is a prime requirement for Asian food.
When you stir-fry, it cooks meat and veggies properly, leaving behind a sweet wok fragrance. You can steam, fry, broil, smoke, or poach with a carbon steel wok.
Cooking on a steel wok is healthy. It helps retain the food's nutrients and needs very low maintenance after you have seasoned it. You can easily use it every week for several months.
And, of course, a non-stick wok means less oil is needed for cooking leading to overall healthier cooking.
How to Select a Steel Wok?
If you plan to use the wok in your home kitchen, then there is much to look for before selecting one:
Round or flat-bottom: if you use an induction or an electric stove for cooking, select a flat bottom wok. A flat bottom will keep the pan stable as you cook, bring the pan into direct contact with the heat source, and even heat it. If you use a Wolf, Viking, or a gas stove, you can go for a round bottom wok. This will help the heat reach the top and allow the food to cook evenly from all over.
Material: we discussed earlier the benefits of a carbon steel wok; hence, after cast iron, a carbon steel wok is the best. However, avoid buying non-stick woks. Non-stick coatings on woks do not work at very high temperatures. And since Asian cuisine is cooked at a very high temperature, it wouldn't work.
Size of the wok: a 14-inch wok is suitable for home cooking. Larger woks will be challenging to manage, while smaller woks will make it difficult to toss and turn the ingredients. Hence a medium-sized 14-inch wok will be the best choice.
Wooden handles: a wok with a long wooden handle on one side and a looped handle on the other side is highly recommended. This combination of handles makes it easy for stir-frying and later lifting the wok.
After knowing which wok will suit you the best, it's time to learn how to season a steel wok. The process is quite simple. Let's take a quick look!
How to Season a Steel Wok?
It is essential to season a wok before using it, be it cast iron or carbon steel. You cannot cook your desired food the way you want in a wok without seasoning it. Now let's see how to season a steel wok with the following simple steps.
Step 1: gather the ingredients: you will need ½ cup sliced unpeeled ginger, 2 tbsp oil (of your choice), and one bunch of scallions chopped into 1-inch pieces.
Step 2: gather the equipment: wok, stainless steel scrubber, spatula, and liquid dish soap.
Step 3: wash the wok: scrub the wok inside out thoroughly using a steel scrubber and dish soap. This process will remove the wok's factory oil coating, which is applied to prevent the wok from rusting before it is sold. Rinse with hot running water.
Step 4: dry the wok: after cleaning, place the wok on the stove for one or two minutes on low heat to dry it. Dry it till no water droplet is visible.
Step 5: Prepare the space: open the windows and exhaust fan. Set the bowl with oil, ginger, and scallions near the stove, along with a bowl of water.
Step 6: heat the wok: set the wok on the stove at the highest temperature. After 30 seconds, by splashing a few water droplets, check that the wok is adequately heated. If the water droplets evaporate within one or two seconds, then the wok is ready for seasoning.
Step 7: add oil: now pull off the wok from the stove and add oil. Swirl the wok gently to coat the button and sides evenly. Now, put the wok back on the stove and add ginger and scallions.
Step 8: stir fry the ingredients: now reduce the heat to medium and stir fry the ingredients for at least 15 to 20 minutes. Smear the mixture up the sides of the wok all the way to the edge.
Step 9: watch the color change: you will observe that the wok has turned into yellowish-brown instead of shiny silver color. Now, throw the ingredients, cool down the wok, and wash it with only hot water.
Step 10: dry the wok: this is the last step of seasoning the wok. Place the wok on the stove at low to medium temperature. Dry it thoroughly till the time no water droplet remains. The wok is now well-seasoned and ready to use.
Care After Seasoning Your Wok
Initially, cook anything in the wok that requires more oil, such as deep-fried food or stir-fries. Avoid steaming, poaching, or boiling in the new wok. Also, avoid using lemons, tomatoes, and vinegar in food for some time.
Final Words
You can cook some of the excellent Asian food in the wok after you have seasoned it properly. If you take care of your wok and re-season it after every six months, you will never face difficulty using it. Now get started to cook your first meal in it and tell us how it was.